IFT Showcase:
Sorghum was on full display at the United Sorghum Checkoff's IFT booth in July. Nu Life Market was joined at the show by Lia Weber, winner of TLC's Next Great Baker, who showcased chocolate chip cookies made with Nu Life Market whole grain sorghum flour.
Lia had expressed frustration with baking Gluten Free before Nu Life's products, "I always have trouble getting the texture to stay light and moist."
Attendees who sampled the items were also impressed. They couldn't believe Lia's products were gluten free because Nu Life's proprietary milling process created a fine smooth texture, and the neutral flavor of high quality sorghum allowed the chocolate flavor to take center stage. Also sampled at the show were snack bars made with popped sorghum, fruit, and nuts. The proprietary sorghum variety and process creates a light, high yield popped sorghum that is perfect for bars, snack mixes, and cereal applications. Other new sorghum applications were highlighted at the show such as waxy sorghum cereal crisps, whole grain sorghum extrusions, sorghum crackers, and sorghum wafers.
If you weren't able to stop by at the IFT but want to see some of the new samples, let us know and we'll send some your way.
A Cracker Shake Up
Crackers are one of the best moving snack categories but also one of the dullest. Shelves are filled with the same ingredients. Wheat, corn, and rice now come in boxes of all colors and price points leaving consumers with little variety. The lack of ingredient differentiation, and innovation has lead to a race to the bottom, where price is the main competitive advantage. Needless to say, these factors make crackers ripe for disruption. Unique ingredients can help elevate brands in consumer's minds. By utilizing sustainable, nutritious, and non GMO ingredients brands can bring back velocity to a competitive category.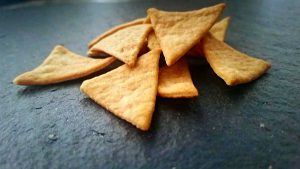 Ingredients with a story resonate with consumers, and Sorghum is one such ingredient. It can be used to make super thin wafers for a light airy texture, or crispy pita chips and crackers with the perfect amount of crunch. Black sorghum and Burgundy sorghum inclusions can add a light airy texture and crispy to chips and crackers with the perfect amount of crunch. And since Nu Life is completely vertically integrated (we actually grow sorghum), we're able to help your team dial in the texture by both milling characteristics and variety starch alignment.
On it's own or paired with veggies and seeds, sorghum is an innovative choice to bring back consumer interest while adding profitability. Crackers just might be, one of the most exciting categories.
Waxy Burgundy Sorghum!
Nu Life Market has done it again! The plant breeding team at Nu Life has figured out how to cross our new Waxy White Sorghum Variety with our beautiful IP Burgundy Sorghum.
The first ever waxy sorghum will now launch this fall in TWO COLORS, white and burgundy. Now developers can get the functionality of a 100% amylopectin sorghum with the added color intrigue of the burgundy sorghum. Flakes, crisps, crackers and snacks will never be the same.
Extrusion Better Than Corn?
Sorghum Snacks are set to take off. Consumers are looking for grain diversity, and sorghum can deliver. The versatility of sorghum in extrusion applications was evident in our latest round of testing; both whole grain and pearled/degerminated products ran well at 100%!
Due to our experience with large extrusion manufacturers, Nu Life Market has the expertise to recommend the correct specification needed to run 100% sorghum through both twin and single screw extruders. We can also customize texture and meltability for your specific product goals, such as baby & toddler puffs. Extrusions can be achieved in all shapes and sizes, and expansion is nothing short of impressive! With strategic partnerships with extrusion equipment manufactures you'll be sure to get the quality, texture, and expansion your project needs. Tired of trying to innovate with boring rice and corn extrusions? Give sorghum a try!
(photos are all 100% sorghum)
Sorghum Pasta…SENZA GLUTINE!
Nu Life Market has partnered with the maker of award winning Gluten-Free pasta to offer fresh and frozen sorghum pasta! Whole grain sorghum flour and artisan pasta making techniques come together to make a gluten free pasta that has a true "al dente" texture. This pasta packs whole grain nutrition and doesn't have the gummy texture of corn or the starchy tooth pack of rice pasta. We think it's the closest thing to a Roman Holiday in the US.
Available in a frozen, ready to eat penne that can be heated in a saute pan–perfect for restaurants and frozen meals. Also available in a fresh linguine that cooks in just 2 minutes in boiling water! Many other pasta shapes are available to fit the needs of your project. With a clean ingredient deck and whole grain nutrition, pasta made with Nu Life sorghum is the perfect way to fit this sustainable ancient grain into your restaurant menu or meal portfolio. Che figata!
 SORGHUM IS THE NEXT QUINOA! (VOGUE)