PRODUCT SPOTLIGHT:
Crispier And Healthier Fried Products With Sorghum
Fry-RiteTM is a unique sorghum product that can reduce oil absorption, increase crispiness, hold in moisture, enhance flavor and increase browning when included in a coating or breading formula. The proprietary milling process of the flour ensures a smooth, non-gritty texture to the finished product, and results in less flour falling to the bottom of the fryer during processing. Fry-Rite can be added to any current breading system for significant functional improvements and a clean label! 
FryRite added to chicken leg on the left. On the right: the same formula without FryRite added.
FOOD TRENDS:
Sorghum A Top Trend: Says Mintel!

Since it can take on a number of forms, sorghum's flexibility will help it grow the "alternative snack" category, offering a change from popped corn or wheat-based snacks. — Full scope here.

NYTIMES: 20 Years of Food Trends

Some are now ubiquitous. Some are lost in time. See the hits and misses here.
DEVELOPER TOOLBOX:
How To Get Kids To Enjoy/Eat Whole Grain
It's true.  Most kids hate the taste of whole grain wheat products. But how do you meet nutritional guidelines while making a kid approved product? With a taste like Durum wheat pasta and a beautiful white color, whole grain sorghum pasta is hands down the focus group favorite. The texture holds up to like regular pasta day 1, and day 2! Whole grain sorghum pasta can be one way to sneak the nutrition of whole grains into diets. But think outside the lunch box—we have formulas for whole grain sorghum tortillas, breads, crackers!
A Clean Label Solution To Viscosity Targets
Formulating with waxy sorghum flour can increase the viscosity of dough or batter and allow for easier processing in the plant. Available for the first time this year, waxy sorghum contains 100% percent amylopectin starch, while regular sorghum is 70% amylopectin and 30% amylose.
Waxy whole grain sorghum flour and regular whole grain sorghum flour were tested on a Rapid Visco Analyzer (RVA) to measure the resistance of a flour and water mixture while being stirred with a paddle. Cold viscosity, which indicates the resistance before heating, shows the state of the viscosity in a batter or dough format. As explained by the graph results below, the waxy whole grain sorghum flour (1.75 RVU) was found to be more viscous than the regular whole grain sorghum flour (1.08 RVU). Waxy sorghum is a clean label solution to thin, hard to process dough and batters. And, has been observed to increased production efficiency.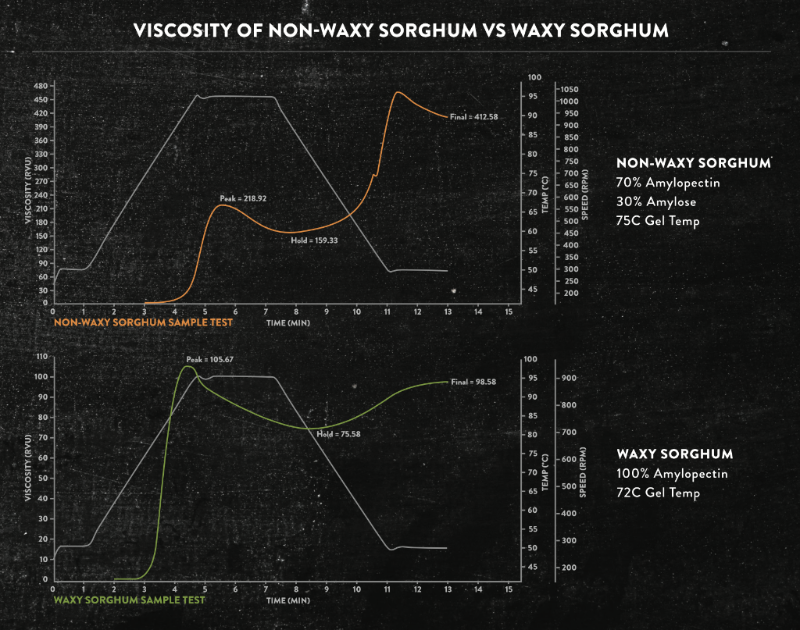 EXPO WEST: Sorghum Whiskey?
Be one of the first to experience the power of sorghum at EXPO WEST. We will have our Whole Grain All Purpose Sorghum flour on display in a lovely lemon muffin (they are are addictive and known to cure day 2 hangovers!), IQF sorghum grain bowl, and hot IQF pasta as well as a few surprises (Sorghum Whiskey??)
NUTRITION: Sustained Energy With Sorghum
The Glycemic Index (GI), a measure of carbohydrates in food according to how they affect blood glucose levels, uses a scale of 0 to 100, with higher values given to foods that cause the most rapid rise in blood sugar. Carbohydrates with a low GI value are more slowly digested and cause a lower and slower rise in blood glucose. A high Glycemic Index is considered to be a value of over 70, and many rice products fall into this category. Glycemic Index has an impact on human health, especially in controlling diabetes. Research has shown that sorghum has a low GI value (0-55), making it a good choice for sustained energy. This means a long and sustained energy release rather than a quick burst of energy followed by a crash. Research has also shown that the milling characteristics and particle size of sorghum flour can impact the Gl value. The R&D scientists at Nu Life Market can help recommend the right specification of flour to achieve your products nutritional goals.