FIRST LOOK: High Amylopectin Sorghum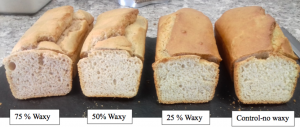 Gluten free waxy sorghum is exhibiting great sheeting potential in gluten free chips and gluten free crackers. Early feedback is finding a lower gelatinization temperature and a light/airy texture in extrusion and sheeting. When used for gluten free breads, next day texture is the best we've seen in GF bread. Also noticed, is an improvement in freeze thaw stability and cell structure. WE HAVE LIMITED SAMPLES LEFT
SUSTAINABILITY FOCUS: WATER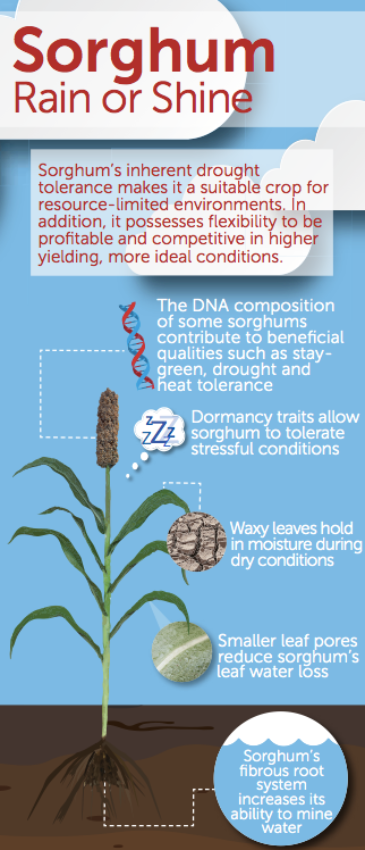 Water is quickly becoming a scarce resource, that will greatly impact human life. General Mills is already aware that in by 2030, 14 years away, 40% of the population is projected to face ABSOLUTE water shortfall (General Mills).
The USDA Economic Research Service has indicated 80 percent of the nation's water is consumed by agriculture, making it an increasingly important topic. Water sources covering the Wheat Belt, like the Ogallala Aquifer, are being depleted at a much faster rate than they are being replenished. According to a research study by Kansas State University and the Kansas Geological Survey, if no action is taken within the next 50 years, the Ogallala will be 70 percent depleted. In most cases, water availability and well yield are declining across the US, resulting in reduced irrigated capacity. As water supplies decline, risk increases for growers.
A UNESCO report on the global water footprint found that wheat and rice account for 45% of the global blue water foot print(UNESCO). Blue water is irrigation water withdraw from ground or surface water. Additionally, rice alone "is linked to the evaporation of 28.7 billion m3 of water per year with an additional 2.4 billion m3 of fresh water being polluted each year in the exporting countries."
Sorghum is well-suited for dry conditions, areas with uneven rainfall distribution, and in locations with high year to year variation in rainfall and water supplies. While other crops require close to 12 inches of water to produce the first bushel, it only takes 6 inches of total water (soil, rainfall, irrigation) to produce the first bushel of grain sorghum. In low water settings, sorghum can produce more grain per inch than comparable grain crops.
Water sustainability goals continue to challenge most. Sorghum can play an important part in meeting these goals.
"We are what we pretend to be, so we must be careful about what we pretend to be." Kurt Vonnegut
Fun Fact: Yes–that was sorghum on the Walking Dead last week. Sorghum makes great zombie apocalypse food!
GIVE YOUR PRODUCT An Amino Acid Boost
Amino Acids are the building blocks of proteins. The main function of dietary protein is to meet the requirements of the body in regards to nitrogen and amino acids. A complete, or whole, protein has an adequate proportion of all nine of the essential amino acids. Sunflower seeds, like most nuts, are a rich source of all the essential amino acids, making them a complete protein.
Sunflower seeds are also allergen free, making them a good choice for kids and schools. Nu Life sunflower products are never contaminated with tree nuts, peanuts, or other allergens in production. Sunflower spread and paste make an excellent filling or coating.
POPPED BURGUNDY Sorghum!
For the first time ever, we've figured out how to pop Burgundy sorghum! Now, not only is a white high yield variety available, but a burgundy variety. Over 2,000 lines were analyzed before we found one with good popping characteristics. Then, with persistence and a bit of luck, we were able to get a burgundy to pop with great taste and high yield—making Nu Life the only popped burgundy on the market. Add pizzazz to your project with a great taste and interesting color.
SORGHUM VS. OTHER GRAINS
From the USDA Database:
Natural source of Iron
No GMO Issues like with corn
Cleaner taste than other Ancient Grains
None of the arsenic of rice