Sorghum is HOT!
The Best New Ingredient Is Popped!
Popped sorghum is an excellent option in bars, cereals, and any product where high ingredient costs need to be managed. Great when paired with high-cost ingredients such as nuts and fruits. With a longer shelf life than popcorn, due to less lipids, this ancient grain option dramatically improves bag fill and net weight. It's a whole grain, non-gmo option that can add interest and customer intrigue to a tired product line capturing higher margins through bag fill, net weight, and unique ingredients.
Sorghum has been popped for thousands of years and, while theoretically, any sorghum can be popped, it's very difficult not to end up with a bag full of unpopped kernels. Our plant breeding program has developed the first high yield variety specific for popping. We have specifically bred our popped sorghum variety through 2 years of plant breeding replications to dial in the texture and efficiency and minimize unpopped kernels. Don't be fooled by other popped sorghum on the market; make sure you're using IP Popping Sorghum.
Guess which is Nu Life's Popped Sorghum:

Is Your Sorghum Contaminated?
"Price is what you pay. Value is what you get." -Warren Buffet
Historically sorghum has been grown in the US as an animal feed with other animal grade crops. It's not uncommon for sorghum to be planted in a field next to wheat, corn, soy, or other common US cereal crops. Sometimes it is even planted in a field that had wheat or soy in it the year before; this results in sorghum being at an increased risk of contamination by volunteer grain from the year before or grains being mixed in from a neighboring crop.
The problem with contamination is that it's hard to know if sorghum is contaminated until it is too late. Thus the source of sorghum has become the most important variable, second only to variety identification. While other sorghum may have a 'guarantee,' Nu Life offers something a little different. Our safety program starts in the field; from seed to crop we have full traceability. There will always be someone willing to sell sorghum at any price, but what they don't mention: the amount of recall liability coverage needed.
The Real Value Of Consistency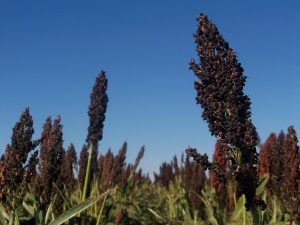 When developing a new product, one of the most important things from benchtop to production scale-up is ingredient consistency. An ingredient can look ideal during development, but when using larger quantities in trials or production, sudden swings in product quality might cause a different perspective. That's why Nu Life developed specific varieties of sorghum for all products, from flour to popped. Starting with I.P. varieties to grow in the field, and milling with a proprietary process, yields a product with consistent particle size and starch damage characteristics–custom matched for the application.
Vertical integration ensures the quality is consistent in size, color, taste, and functionality. And more importantly, a reliable ingredient for scale up.
The SuperFood For Modern Pet food?
The pet food industry is utilizing sorghum in their products, too. Sorghum boasts a low glycemic index, is naturally gluten-free, and is non-GMO. Rich in antioxidants, sorghum has a measurable amount of dietary fiber and has a meaningful amount of minerals. Sorghum also has quality proteins when complemented with sources rich in lysine. Although this niche market is relatively small compared to larger livestock markets, sorghum provides a cost-competitive and nutritious ingredient for pet food companies who are using the grain for carbohydrate blends in dog and cat foods. Sorghum is now being utilized by more than 10 pet food companies in more than 50 products.
Source: Sorghum Checkoff