2015 Crop Report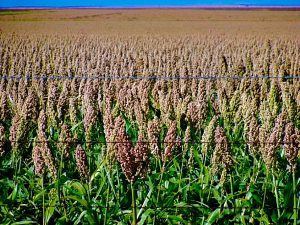 2015 is shaping up to be an outstanding crop. Due to weather conditions, which were better than previous years, 2016 grain quality will be terrific. Both quality and yield improved this year from past years. There was an increased number of acres planted of our IP food grade sorghum under our Food Safety program.
Customers' demand for food grade varieties has been driving quality, which speaks very highly to the growth in the industry. But this year is just the start—Nu Life Market's plant breeding program is improving the varieties of food grade sorghum. These improvements are yielding better baking, sheeting, popped, and extrusion characteristics. Nu Life sorghum has never been better.
new variety: WAXY SORGHUM
For the first time ever, a waxy, high amylose pectin sorghum variety will be commercially available from Nu Life Market. Limited amounts will available this year, with full commercialization next crop year. The new waxy sorghum should produce enhanced texture in breads (freeze/thaw), and gluten free pasta. Another option when creating ancient grain, Non GMO products. Supplies are limited so please reach out to Josh for samples, Josh@NuLifeMarket.com
What's Popping In Ancient Grain
Sorghum has been popped for thousands of years and, while theoretically, any sorghum can be popped, it's very difficult not to end up with a bag full of unpopped kernels. Our plant breeding program has developed the first high-yield variety specific for popping. We have specifically bred our popped sorghum variety through 2 years of plant breeding replications to dial in the texture and efficiency as well as minimize unpopped kernels.
Popped sorghum is an excellent option in bars, cereals, and any product where high ingredient costs need to be managed. It is also great when paired with high-cost ingredients such as nuts and fruits. With a longer shelf life than popcorn, due to less lipids, this ancient grain option dramatically improves bag fill and net weight. It's a whole grain, non GMO option that can add interest and customer intrigue to a tired product line capturing higher margins through bag fill, net weight, and unique ingredients.
The Next Big Thing
With expansion like corn, and no gmo risk, this ancient grain is a smart domestic alternative for your snack needs. After several test runs, we have dialed in the unique spec and correct level of starch damage needed to run 100% sorghum through both twin and single screw extruders. All shapes and sizes are possible: from large puffs to small pellets. And, with vertical integration, we're able to dial in your specific texture needs. Wenger, Maddox, and American–sorghum runs well in all three single screw extruders and has great expansion. With strategic partnerships at several extrusion companies, you'll be sure to get the quality, texture and expansion your project needs. Add value back to your project's bottom line with a unique, low-risk ingredient.
Sorghum Is Hot: Over 50 new sku's launched last year that contained sorghum. *SPINS Data
Gluten Free Just Got Smoother
Nu Life Market's sorghum flour was specifically developed for excellent crumb structure and light texture. Milled with our proprietary mills and our IP food grade varieties, we're able to create a flour that functions well in crackers, breads, cookies and cakes. Our sorghum flour has a clean taste, no odor, and a smooth mouth feel, which is unlike the gritty sandy-mouth feel of rice flour. Most are surprised by the texture and quality as it truly lives up to expectations. See what your team thinks, reach out for a sample for your own testing!
Fun Fact: Last year was the first time in US history chicken consumption surpassed beef. *Mintel Report