Pearled Sorghum Chicken Casserole
Gluten Free Recipe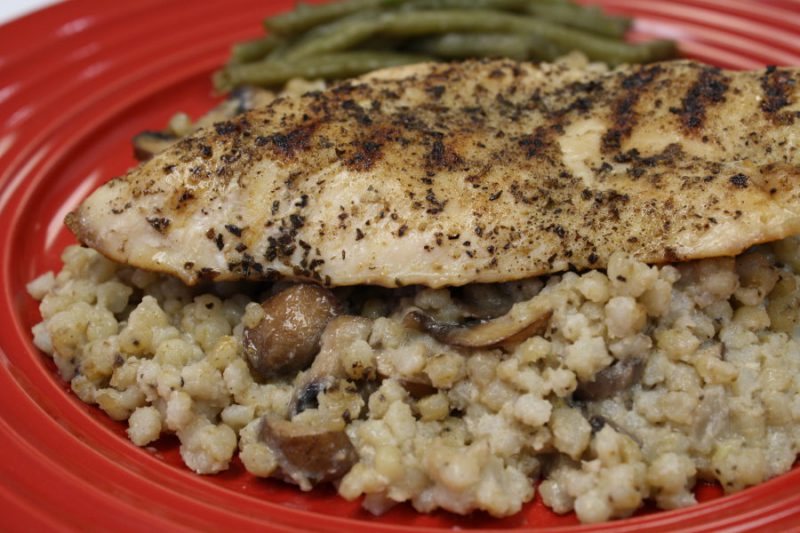 Ingredients
3 cups cooked Nu Life Market's Pearled Sorghum Grain
2 boneless, skinless Chicken Breasts
4 tbsp butter flavored Palm Shortening, divided
¼ cup chopped Mushrooms
¼ cup sliced Mushrooms
¼ minced Onion
1 tbsp minced Garlic
3 tbsp Nu Life Market's Gluten Free All-Purpose Flour
½ tsp Salt
½ tsp Pepper
1¼ cup warmed Coconut Milk
---
Instructions
Preheat oven to 350°F. Grease a 8X8 baking dish; set aside. In a medium bowl measure out precooked Nu Life Market's Pearled Sorghum Grain set aside. In a medium skillet melt 1 tbsp of butter flavored palm shortening. Once melted add all of the mushrooms, onion, and garlic; sauté. Remove from the skillet and set aside. In a small bowl combine the Nu Life Market's All-Purpose Flour, salt, and pepper. In the skillet melt the remaining 3 tbsps of butter flavored palm shortening. Once melted whisk in the flour mixture and cook for approximately one minute; stirring occasionally. Slowly whisk in the warmed coconut milk. Once smooth, add the vegetables back in and stir until the mixture becomes thick; remove from heat and pour into the bowl of premeasured Nu Life Market's Pearled Sorghum Grain. Mix well. Place in the prepared baking dish. Place chicken breasts over the Pearled Grain, cover, and bake for 45-60 mintues or until the chicken is fully cooked. Remove from oven and serve hot.
The chicken can be browned or seasoned before baking.
Make This Gluten Free Recipe at Home!
Gluten free never tasted so good. Make this Pearled Sorghum Chicken Casserole recipe using quality, delicious products from Nu Life Market.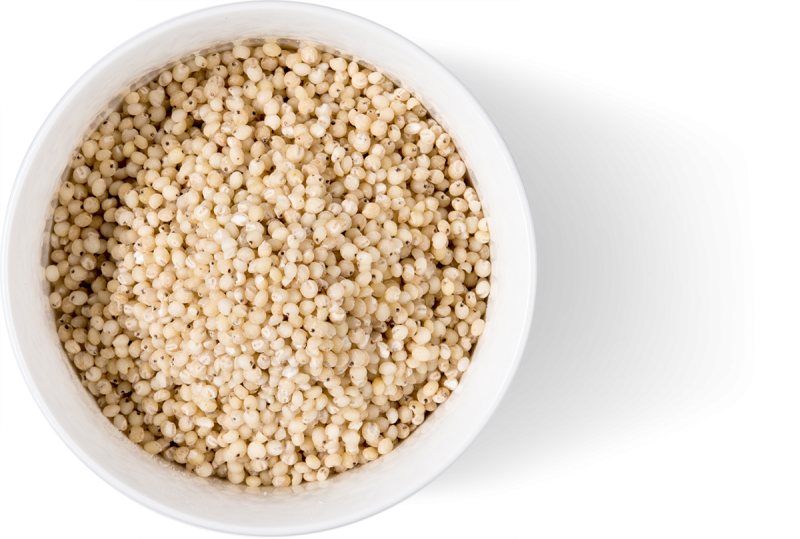 Nu Life Market's gluten free White Pearled Sorghum Grain is an excellent gluten free alternative to couscous, quinoa, and pasta.  Pearled sorghum can be infused with numerous flavors, transforming any ordinary meal.  With an 'al dente' texture this grain is sure to shake up your salads, stir-fry, or any savory meat dish. You may also want to try our white pearled grain sorghum as a bed for tofu, chicken or any savory meat dish.
How to Cook Our Pearled Sorghum Grain
Combine ½ cup of pearled grain sorghum with 1½ cups of water in a glass bowl. Place in microwave on HIGH for 14 to 16 minutes or until desired texture is reached. Stir once halfway through cook time. Drain and rinse with cool water. (Cook time based on 1200 watt microwave. Adjust time as needed based on wattage of your microwave.)
Shelf Life
Store in sealed container in a cool, dry place for up to one year.
Ingredients
Pearled Grain Sorghum