Lime Fish Over Sorghum Pilaf
Gluten Free Recipe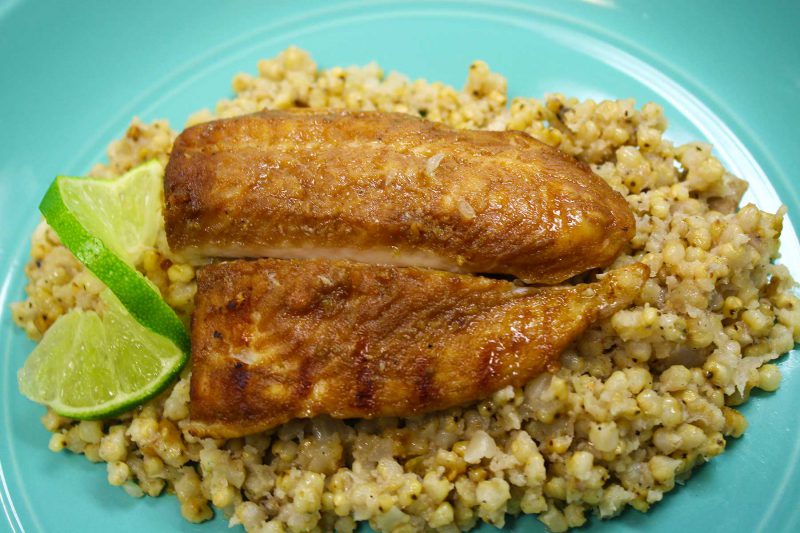 Ingredients
1 Cup Nu Life Market's White Whole Sorghum Grain

2 cups water

4 tbs palm shortening (3 tbs butter), divided

¼ minced onion (medium-sized)

2 garlic cloves minced (medium-sized)

½ cup chopped mushroom

3 tbs Nu Life Market's Gluten Free All-Purpose Flour

1 tsp salt

½ tsp pepper

¼ cup warmed coconut milk

½ tbs extra virgin oil
Marinade for Fish
Zest of 1 lime (1 tsp of lime zest)

¼ cup balsamic vinegar

¼ cup extra virgin oil

2 tbs honey

½ tsp salt

2 garlic cloves minced (medium-sized)

2 Fish Fillets
---
Instructions
Cook the sorghum grain using 2 cups of the water in a pressure cooker (@ High Pressure for 1 hour). While the sorghum is cooking, prepare the other ingredients. To prepare the marinade, combine all the ingredients except for the fish fillets. Place mixture in a zip lock and marinate fish for at least 30 minutes. Using a medium-sized pan, start sautéing (on medium heat for about 5 minutes) the minced garlic, onions, and mushroom in 1 tbsp. shortening (3/4 tbs butter). Transfer sautéed vegetables into a bowl and cover for later use. In a separate small bowl, combine the flour, salt, and pepper. In the same pan used to sauté the vegetables, melt the remaining 3 tbsps. shortening (1 ¼ tbs butter); add the flour mixture and cook for approximately one minute; stirring occasionally. Slowly whisk in the warmed coconut milk. Once smooth, add the sautéed vegetables back in and stir until the mixture becomes thick; then add the cooked sorghum and cook for an additional 10 minutes on low heat. Brush a grill pan lightly with olive oil and cook the marinated fish for about 4 minutes on each side; brush occasionally fish with marinade. Once cooked, place the two fish fillets over the sorghum pilaf and serve.   
Make This Gluten Free Recipe at Home!
Gluten free never tasted so good. Make this Lime Fish Over Sorghum Pilaf recipe using quality, delicious products from Nu Life Market.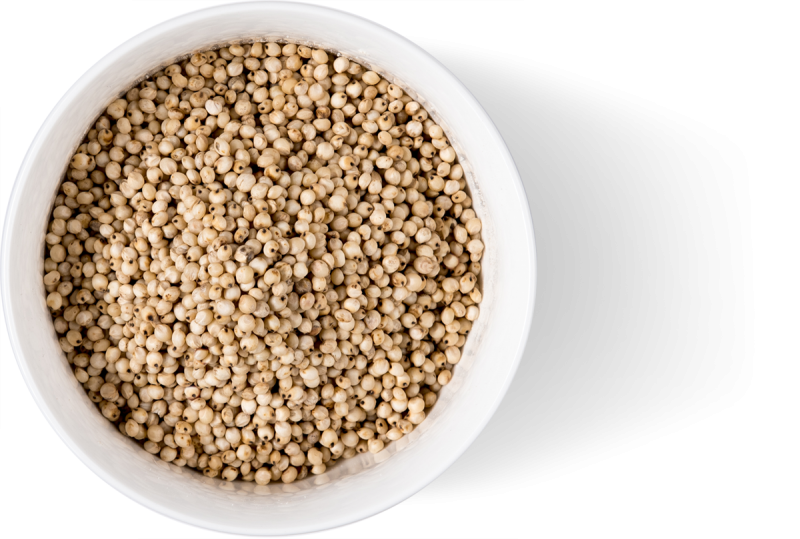 Nu Life Market's gluten free White Whole Sorghum Grain is a eco-friendly ancient grain.  All Nu Life Market grain sorghum is produced under our Farm to Family food safety program which allows us to trace the grain from the fields to the consumer.  This naturally gluten free and GMO-free whole grain offers numerous product options to our customers.
Shelf Life
Store in sealed container in a cool, dry place for up to one year.
Ingredients
Whole Grain Sorghum